Public Works
The Public Works Department provides a wide range of essential community services that improve quality of life here in Crescent City.  Staff of this department are committed to making Crescent City a beautiful, livable and sustainable city.  The Department is divided into six main divisions:
Engineering, which includes Administering public infrastructure contracts, transportation, stormwater, project management, inspection of utilities installation, encroachment permit review and inspection, quality assurance and inspection for Capital Improvements 
Field Operations, which includes, road maintenance, and utility maintenance
Fleet Management, maintains the City's fleet including critical public safety vehicles such as fire and police 
Building and grounds, maintaining the City's buildings and beautiful parks
Electrical Maintenance, maintains and installs streetlights, water distribution, and lift station maintenance
Water Quality Lab, providing Del Norte County with various water quality tests.
TO REPORT A PROBLEM CLICK  HERE or
Call (707) 464-9506 during normal business hours Monday - Thursday 7:30 am - 5:30 pm. 
Water and sewer emergencies can be reported after hours on the non emergency dispatch line at (707) 464-2133.
Fun Facts
The Public Works Department of Crescent City maintains: 23 miles of roads and 5 downtown parking lots.  4,500 water connections, 2,300 valves and 492 Hydrants along 60 miles of water line.  3,850 sewer connections and 21 lift stations along 51 miles of sewer line inside the City and in the Community Service Areas.  800 Streetlights.  70 Acres of park land and 7 public restrooms.
---
Current Construction Projects:
Front Street Storm Drain Project - The City secured a Community Block Development Grant to help reduce flooding of residential properties.  This Project will install a redundant storm drain piping system within the C Street drainage basin between 5th Street and Front Street, and F Street drainage basin between Front Street and 4th Street.  The Project also includes street improvements, ADA compliant curb ramps, sidewalks and curb and gutter on the affected streets.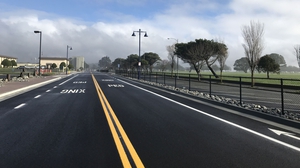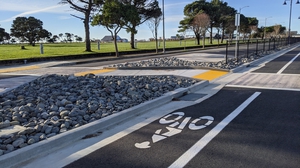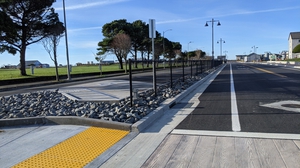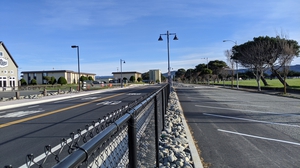 National Environmental Policy Act (NEPA) Environmental Review Record (ERR) can be reviewed at City Hall located at 377 J Street; Crescent City, CA 95531 or at this link.
Sunset Circle Multi-Use Trail Project - This project is funded by the Active Transportation Program, Del Norte Local Transportation Commission and the Coastal Conservancy.  The project will provide the final segment of the California Coastal Trail through Crescent City, connecting pedestrian and bicycle traffic from Pebble Beach to South Beach.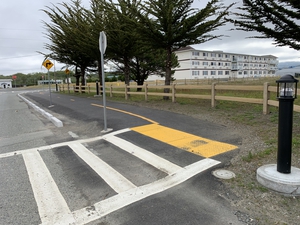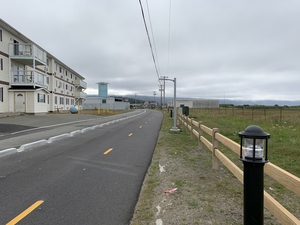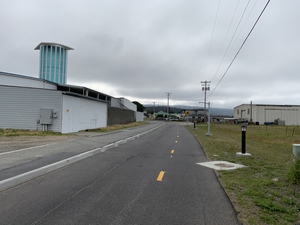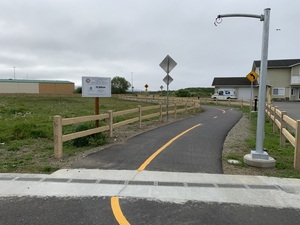 ---
Documents:
City Of Crescent City ADA Complaint Procedure
Del Norte Region SB 743 Implementation Plan (2020)
Quality Assurance Program (For Materials Sampling and Testing) 2020
Regional Systemic Safety Analysis Report (2019)
Resolution 2021-36 - SB1 Project list
RAISE Grant Documents:
Attachment B Beachfront Park Master Plan
Attachment B Prop 68 Grant Application
Attachment C Supporting Documents
Attachment D Letters of Support
Attachment E Budget and Project Schedule
Attachment F Environmental Documents
Attachment G Design and Engineering Documents
Attachment H Public Input Summary
Attachment J Recently Completed Projects
Attachment K Gateway Signage and Tolowa Cultural Points of Interest
Attachment L Benefit Cost Analysis - Technical Notes
Attachment M Benefit Cost Analysis - Tables
---
Helpful Links
Del Norte County is a county at the far northwest corner of the state of California along the Pacific Ocean adjacent to the Oregon Border.
Del Norte Local Transportation Commission:
Del Norte Community Map is a community input tool belonging to the Del Norte Local Transportation Commission that compiles and organizes comments regarding transportation facilities.
Native American Tribes:
The www.rebuildingca.ca.gov website provides transparency for all City, County and State SB1 Projects.  The projects from each agency are listed by agency and fiscal year (July 1 - June 30).  SB 1 is referred to by several names including SB 1 (Senate Bill 1), Road Repair and Accountability Act of 2017, Road Maintenance and Rehabilitation Program (RMRP), and Road Maintenance and Rehabilitation Account (RMRA).